"When the Fall Comes," a film about love, loss and art, chronicles how one woman moves through grief by using dance, poetry and a performance piece to illustrate her healing process. "When the Fall Comes" weaves through vivid landscapes of the San Francisco Bay Area, Argentine tango dancing, performance moments and poignant interviews focused on grief and the arts. First time producer Adriana Marchione brings a stunning portrait of her personal story and helps us venture into melancholy as well as the joy and reverence that accompanies loss.
"When the Fall Comes" was initiated by Marchione in response to her struggle with grief after the loss of her husband in June of 2007. She documented dreams, memories and created poetry about her experiences for over five years, which then culminated into the performance of the same name, "When the Fall Comes." By teaming up with director Wyatt Roy and director of photography Michael Brandt, Marchione was able to craft a film that brings us into a compelling story of loss and renewal. In addition to the strong imagery of "When the Fall Comes," a tapestry of dialogue inquires into the nature of grief and directly shows us how art can be an alternate source of healing. A variety of perspectives are incorporated into the film narrative from Marchione herself, psychotherapist Dietmar Brinkmann and her current partner, Mitch Ryder.
In addition to her personal motivation to do this work, Marchione is also influenced by her work as an expressive arts therapist, a field that brings a variety of art i.e., dance, visual arts, creative writing, and performance, to advance personal and community health.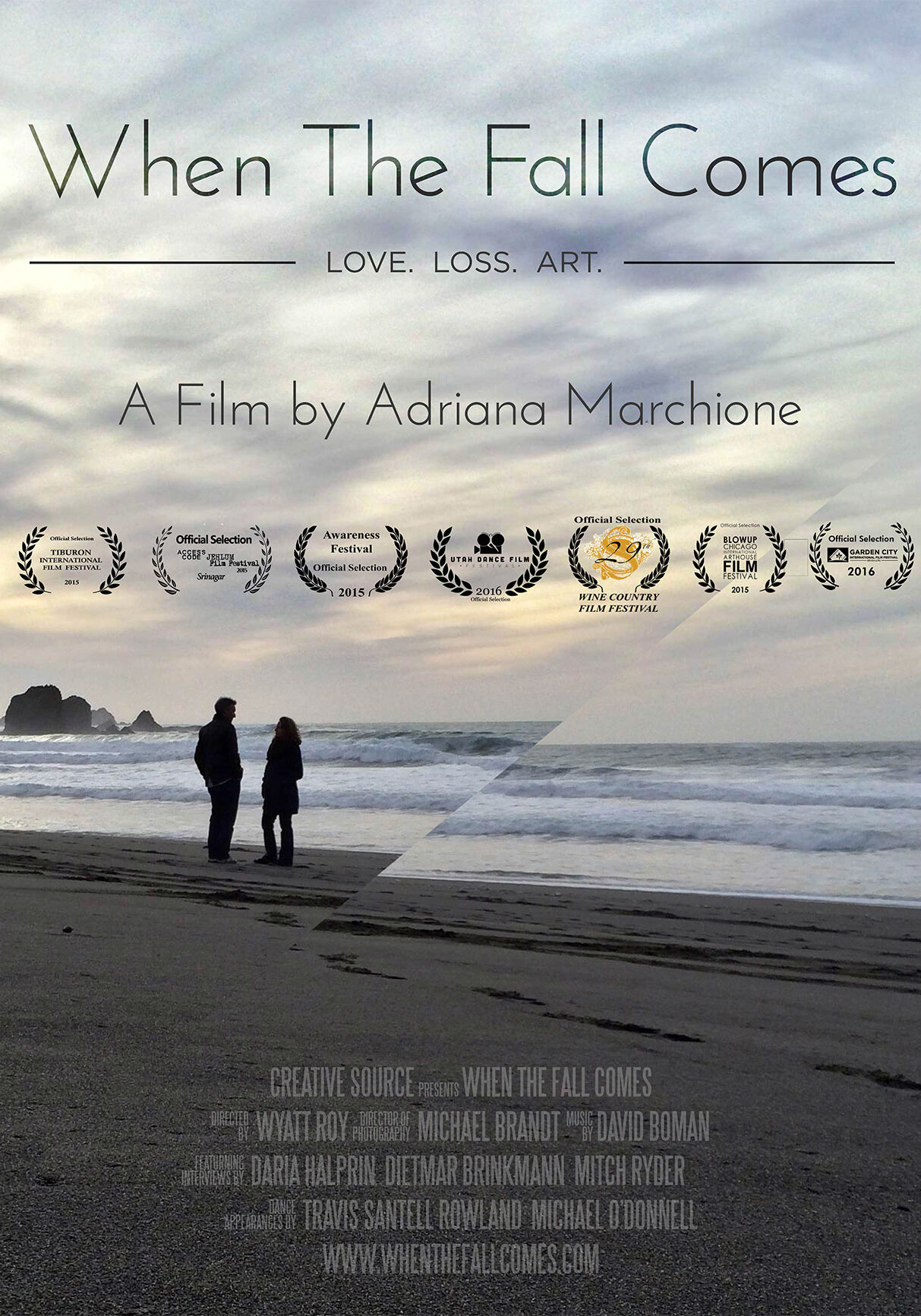 Some of the film footage brings us to Marchione's work as a teacher at Tamalpa Institute, the internationally renowned movement-based expressive arts therapy training center in Marin County, California. Notably, Tamalpa Institute was founded by pioneers Anna and Daria Halprin. Anna Halprin is a revolutionary dancer and educator who is still actively teaching in her 90s; Halprin has mentored influential dancers such as Yvonne Rainer and Simone Forti and collaborated with revered artists, poets, and thinkers for decades. Her daughter, Daria Halprin, is a master teacher, dancer, and author who has a multi-faceted background that includes having starred in Antonioni's film, Zabriskie Point. Daria Halprin is interviewed to emphasize a few key moments in "When the Fall Comes." Other highlights in the film include dance and performance by Bay Area dancer Travis Santell Rowland and behind-the-scenes art coaching by award-winning choreographer Erika Chong Shuch.
The performance of "When the Fall Comes" that included dance, poetry, and spoken word was originally performed to an intimate audience at Noh Space Theater in San Francisco in January of 2013 as a personal healing ritual. Based on this experience, it was evident that a broader audience could benefit from witnessing the performance. This resulted in collaboration with Travis Santell Rowland and artistic support from Erika Chong Shuch to create a performance for a public audience. The outcome was three sold-out shows on October 11, 12, and 13, 2013 at Noh Space Theater. While creating the performance, Adriana partnered with filmmakers Wyatt Roy and Michael Brandt to help document the process and conducted interviews to create the film "When the Fall Comes." She later teamed up with seasoned editor Elaine Trotter to make the final cut of the film. The film has an original score by David Boman and music by the Bay Area tango band Trio Garufa.
The hope for this film project is to honor and connect to people who have lost a significant other or loved one. We live in a culture where there are so few opportunities to process loss and to explore the emotional and spiritual disorientation that occurs from grief. The ultimate goal for the film is to demonstrate that the arts can allow complicated feelings and experiences resulting from grief to be expressed, as well as provide opportunities to come together around the topic of loss.